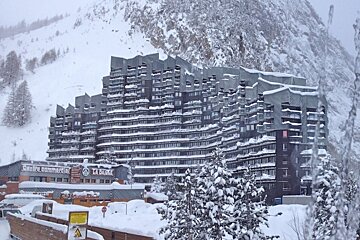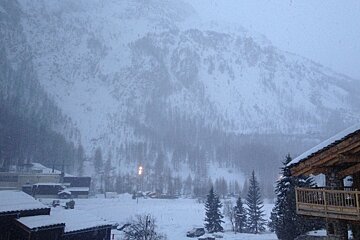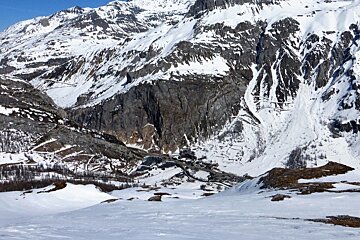 La Daille
Lots of accommodation and excellent lift access
La Daille has an excellent regular bus service that takes you straight to the centre of the Val d'Isère village in less than 10 minutes. If on foot the walk will take around half an hour and it can make for a lovely stroll with the spectacular mountains that sit either side of the valley.
La Daille is located right at the entrance to the Val d'Isère resort. It is a hub for high rise apartment blocks with a few traditional chalets dotted around, and although it is not the most attractive part of the Val d'Isère resort it does provide a number of 'good value' self-catering accommodation options and has great access to the lifts and Espace Killy ski area.
Things to do in Val d'Isere
In the winter La Daille gives you the option to be straight on the slopes on the Bellevarde side of the mountain - which also connects to Tignes. Or you can hop on the bus and head to the Rond Point and in 15 minutes you can be getting on the lifts to the Solaise area. The excellent location and reasonable value accommodation make La Daille a popular place to stay in the winter giving this hamlet of the resort a busy and buzzing feel.
The summer in Val d'Isère brings sunshine and green lush mountains. It is normally much quieter in La Daille during the summer season but with the stunning mountains and easy lift access, you can enjoy many of the summer activities Val d'Isère has to offer. Mountain biking is one of the most popular activities in the summer and with connecting lift access from Val d'Isère to Tignes you can explore the various trails and routes. There are also plenty of summer activities that can be enjoyed which are perfect for families and groups. You can even jump in the car and head to Tignes to enjoy the summer skiing on the glacier.
Dining in Val d'Isere
A number of splendid traditional Savoyard restaurants can be found in La Daille, and with its access to the mountain via the funicular, bubbles or chairlift there are also a few sports shops dotted around, making it easy for you to hire your ski equipment and mountain gear.
Chalets in Val d'Isere
There are some older wooden style chalets that will provide a more traditional chalet mountain style to your stay.
Apartments in Val d'Isere
Aparthotels and residences are the most popular accommodation to be found in La Daille and with the large apartment blocks there are plenty of different options to choose from.
Hotels in Val d'Isere
There is a small selection of hotels in La Daille, so if you're looking for a quieter spot to stay this could be your choice.
Location