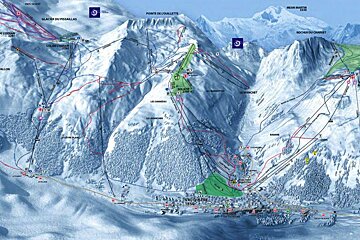 Maps of Val d'Isere
Download the essential Val d'Isere maps and plans
We hope this selection of piste and lift maps, street maps, and activity area maps for Val d'Isere will help you find your way around so you can make the most of this great part of the world.
Originally a small Alpine farming village, Val d'Isère has developed into a modern town whilst retaining its village feel and sense of tradition. It is made up of a number of small charming little 'hamlets', namely Le Cret, Le Joseray, Le Chatelard, La Legettaz, Le Laisinant, Le Daille and Le Fornet. The 'Old Town' is undoubtedly the prettiest, with quaint, old stone properties lining little snow filled streets. More recently, the area of Les Carats (millionaire's row as it's locally known!) has developed it's own character and charm with a number of luxury chalet companies operating here. The hamlets of La Daille and Le Fornet are essentially 'villages' in their own right.
Piste maps
Lifts marked on the piste map using straight black lines are of four types: button tow/drag lift, chairlift, télécabine and télephérique. They have the corresponding abbreviations:
TK - téléski (drag lift)
TS - télésiege (chairlift)
TC - télécabine (gondola)
TPH - téléphérique (cable car)
Anything prefixed/suffixed with "Express" means a six-person, fast chairlift.
Winter walking / trail maps