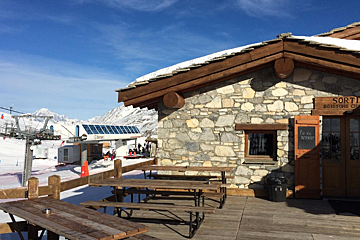 Les Marmottes Restaurant, Val d'Isère - Bellevarde
Self-service restaurant with generous portions located at the bottom of the Borsat express chair
This restaurant is nestled at the bottom of the Borsat express chairlift, on the Bellevarde side of the Val d'Isère valley.
You can expect generous portions and speedy service of dishes such as spaghetti bolognese, soups, steaks and burgers with chips. There is plenty of outdoor and indoor seating.
Open when the slopes are open.
Directions
This self-service restaurant is located right in the centre of where many different pistes cross and accessible by various ways, it is a good choice for all abilities of skier. One option is to take the Olympique bubble up from Val d'Isere then head down the Verte or Mont Blanc pistes.
From Tignes, you can take the Bollin/Fresse, Aeroski and Tufs chairlift to get over to the Bellevarde side of Val d'Isere and then ski down to the bottom fo the Borsat chairlift to find this restaurant. To get back over to Tignes head to the Tommeuses chairlift and take one of the various runs back to Tignes.
Location