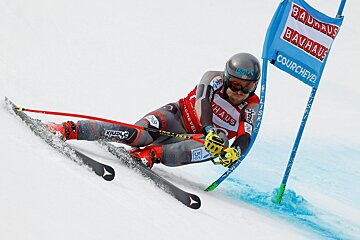 FIS Alpine ski races, Val d'Isère
World's best ski racers in slalom, giant slalom, super G and downhill
Thrilling high-speed ski races hit the slopes of Val d'Isère when the International Ski Federation comes to town.
Races will take place throughout the winter on various dates. All races are free to watch.
Watch this
What to see
If you're new to following ski racing it can take a while to get used to all the different types of races on the calendar.
All the events involve skiing down a course set with flexible red and blue poles. These are known as gates, and are normally set in pairs. A skier must pass through all the gates to complete the course, and the fastest skier wins. There are no time penalties – a skier who fails to pass through all the gates correctly is disqualified. There are four disciplines, divided into technical and speed, with the main difference being how far apart the gates are set.
The main events you need to know about are as follows:
Slalom
The most technical discipline. Slalom races have the tightest, quickest turns and the shortest, most agile skis. The gates are made of two single poles without flags, with 6m to 13m between successive gates. Slalom skiers wear a lot of protection and are expected to hit the gates with hands or shins.
GS – Giant Slalom
GS is the most accessible event for a recreational skier, but the hardest to master. The gates for GS and other events comprise two sets of double poles with flags, or panels. Speeds are faster, but this is still a technical event with the skier passing a gate every one to two seconds. Gates are at least ten metres apart and typically 20m to 30m.
Super G
Super G is classed as a speed event, with the gates being set further apart than GS giving higher speeds, but not as far apart as downhill. Gates must be at least 25m apart.
Downhill
This is the fastest of the four disciplines, raced on the longest, straightest skis over a course with the fewest gates. Gates are set where needed, with no rules on how far apart they are. Unlike the other three disciplines, gates do not have to alternate in colour but can be all red or all blue.
Combined / Super-combined
An event where a run of downhill or super-G is combined with a run of slalom. While most racers specialise in either speed or technical events, combined races favour the all-rounders.
Parallel GS, Parallel Slalom
In parallel events, skiers race each other head to head on parallel courses, rather than against the clock.
Dates for this event
December 2023
January 2024
Location