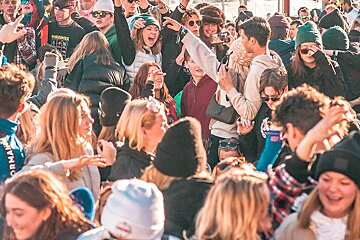 Last Tracks, Val d'Isere
Party Time in Val d'Isere
Sunshine, snow, parties, it's time to make your last tracks to the end of the season
You'll find parties at the summit restaurants and throughout the village. From the 16th April until the extended end of the season now on 6th May 2023. Ski and soak up the great spring atmosphere on the slopes and in the restaurants and bars at various end of season parties.
Take advantage of reduced rate ski passes from April 15th too!
ALTITUDE RESTAURANTS
Au bout du monde – April 28th ou 30th - At the bottom of the Manchet valley, "Au bout du monde" restaurant meets you from noon with BBQ, salad and dessert buffet & DJ set
L'Étincelle – April 30th - Both accessible on skis and on foot from the snow front, meet at l'Étincelle for the big closing party on Sunday April 30th with DJs and a giant all-you-can-eat buffet for the occasion.
PARTIES IN THE VILLAGE
Cocorico Après-ski – April 16th - Live band Queen of the Snow Stage
Le Salon des Fous – April 21th, 22th, 23th - Le Salon des Fous is looking forward to seeing you for the 2023 edition of "Foustock": 3 days of concerts! Peace & Music
La Source – April 23th
La Rosée Blanche – April 26 - At the foot of the La Daille gondola, La Rosée Blanche bar offers a live rock concert with Mullit and The Machine followed by DJ Kommissar set from 3 pm.
Doudoune Club – April 29th and 30th
April 29th: special guest Braxe & Falcon, April 30th: closing party
Le Garage – April 29th - Doors open at 7 pm with street food. First part around 8/8:30 pm with a DJ who has often come to set the Garage on fire, Nico Maille, followed by a DJ set by Møme. An event open to all, where good humor and the festive spirit are highly recommended.
Location