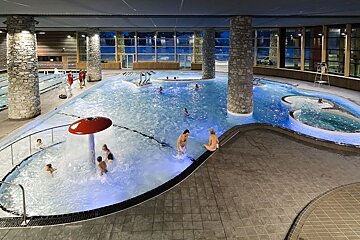 © Centre Aquasportif Val d'Isere
Swimming Pool & Sports Centre
Swimming Pool & Sports Centre in the centre of Val d'Isere
The swimming pool and sports centre in Val d'Isere offers swimming, climbing, gym/fitness, squash, indoor football, volleyball, a bar for refreshments for you to enjoy and a children's play area.
For fitness fanatics or those who just want to do something different whilst on holiday with the family in Val d'Isere head to the sports centre to enjoy a whole host of activities. It is split into 5 main areas - Beach World, Spa World, Sports World, Well-being World and Lounge World. There is certainly something for everyone!
Swimming pool, children's pool, sauna, steam room & spa. Entry to the swimming pool is often included if you have a ski pass so it is worth checking to see if this is the case when you buy your pass.
The climbing wall is 12m high with 7 separate routes, perfect for beginners who want to learn and those who just want to practice their climbing. Insurance is required before climbing.
Large sportshall for indoor football, volleyball, basketball. badminton and more.
Gym & weight training. The gym area overlooks the swimming pool, with a number of cardio and weight machines.
2 Squash courts.
Plus much, much more!
Location