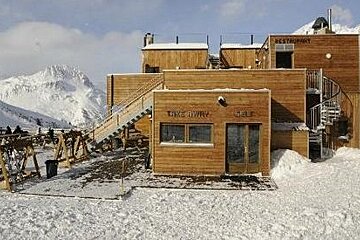 Le Signal Mountain Restaurant, Val d'Isère
Waiter service, self-service and takeaway mountain restaurant in Fornet area
In the magical surroundings of the Fornet ski area, situated at the arrival of the cable car, welcome to Le Signal, a colourful, convivial and atmospheric mountain restaurant.
The fine dining restaurant is located on the first floor. Whether it's a short break around the fireplace or a table overlooking the mountains, you'll find a warm welcome and your every need will be looked after. The menu offers a choice of fine French cuisine, tempting homemade desserts and a comprehensive choice and variety of wines to suit every palate.
If you prefer something less formal try the self service restaurant and bar; a dynamic, busy restaurant and bar leaving you energised having devoured a selection of fresh salads, soups, savoury quiches, hot dishes and the dish of the day, tempting homemade desserts and sweets.
For those who don't like to waste a second on the slopes, you can grab a quick and tasty bite from the take away. This one-stop shop offers drinks, hot and warming vegetable soup, a Croque Monsieur and much more.
On three levels, terraces open out to magnificent views across the valley, on to the villages and hamlets of Fornet and Val d'Isère as well as to the peaks of the National Park of the Vanoise.
Location